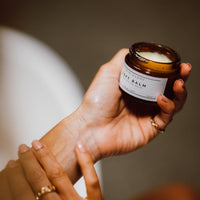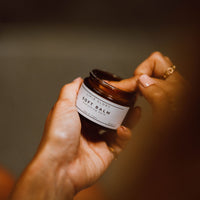 Soft Balm
€24,90
Sale

• Save
Unit price
€49,80
per
100 ml
Each
incl. VAT and plus Shipping strong> p>
Our Soft Balm is a gentle balm for face and body. It consists of only five ingredients, all of which are very well tolerated. It protects the skin from environmental influences and has cooling and calming benefits for sensitive and irritated skin. P>
Dry and flaky skin becomes soft again and and protected from water loss. All vegetable oils used and the beeswax come from controlled organic farming and are rich in nutrients. P>
As all-round care, the Soft Balm can be used for all skin parts and serves as SOS moisture care, which provides irritated skin relief. Used as a intense lip care, the balm is excellent and preserves the delicate skin from drying out. P>
PROPERTIES
Protect the skin barrier with mild and effective cleansing
Protection for sensitive skin
The LIPID GLORY Sensitive Balm consists of only five ingredients and is suitable for adults and babies. The vegetable, cold-pressed oils and beeswax come from controlled organic cultivation. This mild balm for face and body has a delicate scent of cocoa butter and coconut oil.
Allround care
The Sensitive Balm has nourishing, cooling and protective properties, making it an all-round care. An "Everything Balm" especially for irritated, dry and irritated skin. The combination of the mild and very compatible organic oils and the nutrient-rich, equally very compatible organic beeswax, quickly makes the skin supple and soft.
Supports the skin barrier
The balm places a lightly occlusive barrier over the skin. Occlusive means that a product forms a water-repellent film and thus reduces transepidermal water loss from the skin. The effect of extreme cold, wind or very dry ambient air is less pronounced. In very cold temperatures, an occlusive layer can prevent moisture in the skin from causing cold damage due to freezing temperatures. In dry heated air or low humidity, the balm slows the evaporation of skin moisture and prevents a dry feeling of tension.
Protects against environmental influences
Organic vegetable oils have a high number of vitamins, minerals and secondary plant substances. These substances have antioxidant properties and therefore have a cell-protective effect. The richness of the nutrients contained, including antioxidants, vitamins, and minerals, protects against cell damage caused by environmental influences, such as the formation of free radicals.
Day & Night
The Sensitive Balm can be used, lightly dosed, as a protective day care. Especially if you want to avoid all potentially irritating ingredients and all certain active ingredients, in the care routine. This is what makes this organic balm so suitable for babies and toddlers. All five ingredients are low irritant, well tolerated and yet intensively caring.
Intensive care
With the help of nutrient-rich organic vegetable oils and organic beeswax, the natural skin protective barrier is preserved. The antioxidants, vitamins and minerals help the skin to regenerate and protect itself from environmental influences. This balm for the face provides rapid suppleness and promotes elasticity and resistance of the skin.
QUICK INFO
Soft Balm
WITHOUT PALM OIL
For the environment
WITHOUT FRAGRANCES
Free from allergies
ORGANIC INGREDIENTS
Only organic ingredients
QUICK INFO
Soft Balm
FROM HANDICRAFT
With love for detail
NO ANIMAL TESTING
A heart for animals
0% WATER CONTAINED
Completely free from H2O
APPLICATION
Glory Balm is an all-round care for face and body
Apply to slightly damp or dry skin in the morning, evening or in between cleansing.

A small amount of the balm is enough to care for the whole face and neck.
Use the balm pure and pamper your skin with an extra dose of care. The nails, massaged daily with a little balm, keeps them elastic and nourishes the cuticles. The Sensitive Balm can be used always and everywhere, whether in summer or winter.

Likewise, the balm is a perfect lip care, during the day or at night, gives shine and makes the lips soft and supple again.
It is recommended to use a moisturizing product before applying the balm. An oil-based product is absorbed much faster when the skin is well moisturized.

LIPID GLORY's waterline products, such as the Hydrating Serum or the Balancing Toner, are ideal for providing the skin with intensive moisturizers.
SKIN TYPES
The Soft Balm is ideal for dry, sensitive and irritated skin
For a dry and sensitive skin, the mild Soft Balm is a boon. It soothes, cools and relieves a stressed skin and provides instant suppleness. Due to the fatty acids contained, irritated and itchy skin can recover quickly and come to rest.

The organic oils nourish flaky skin soft and the Entsheung of microcracks is prevented. The balm is suitable for face and body care.
CONTENTSSTOFEE
What ingredients, nutrients, vitamins, minerals and antioxidants are in the Soft Balm?
INGREDIENTS
Ingredients: Cocos Nucifera Oil*, Theobroma Cacao Seed Butter*, Prunus Amygdalus Dulcis Oil*, Cera Alba*, Tocopheryl Acetate.

*From controlled organic cultivation.

Ingredients translation: coconut oil (organic), cocoa butter (organic), almond oil (organic), beeswax (organic), vitamin E oil.
KAKAOBUTTER
Cocoa butter has soothing and regenerating benefits for the skin. Cocoa butter from organically controlled cultivation is rich in antioxidants and has a high content of vitamin E and thus acts against free radicals.cocoa butter has a hydrating effect and is quickly absorbed. Comedogenic level 4
COCOOK OIL
Coconut oil from controlled organic cultivation has antibacterial, antiviral and anti-inflammatory properties. Coconut oil has a hydrating, regenerating, soothing, calming and cooling effect. Comedogenic level 3-4.
BEE WAX
Organic beeswax is very compatible, skin protective and hydrating. Beeswax has an anti-irritant, antiseptic, antibacterial and anti-inflammatory effect.
High quality beeswax from controlled organic cultivation is rich in minerals and vitamins. Comedogenic level 0-2.
ALMOND OIL
Almond oil from controlled organic cultivation is very skin-friendly and mild, soothing and cooling. Almond oil is rich in vitamins A, B, E and D and very rich in minerals. Organic almond oil is one of the mildest vegetable oils and keeps the skin supple. Comedogenic level 2-3,
VITAMIN E Acetate
Vitamin E acetate is an oil-soluble antioxidant. It protects oils from oxidation and the skin from environmental influences and free radicals.
BENEFITS
The benefits of the Soft Balm at a glance:
The Sensitive Balm brings many benefits with its five ingredients and their respective properties.

It keeps the skin supple and protects especially dry, sensitive and irritated skin.

It has a cooling effect on mild skin irritations and soothes wounds and small skin cracks due to moisture loss or irritation.
Due to its softening properties as an emollient, the balm softens, nourishes and protects the skin from environmental influences.
Because it is so mild, the balm can be used as eye care. The delicate skin around the eyes is not irritated, but protected and cared for. Due to the softness, and thus the increased elasticity, the formation of fine lines can be mitigated.
Intensive balm has a high content of vitamin E, which protects the skin as one of the strongest antioxidants, against environmental influences. At the same time it can help the skin to recover from the damage caused by sun exposure.
The balm is particularly suitable for very dry and scaly skin. It can be used as a supportive mild care for psoriasis, neurodermatitis and other eczema.
Because it is so mild, the balm can be used as eye care. The delicate skin around the eyes is not irritated, but protected and cared for. Due to the softness, and thus the increased elasticity, the formation of fine lines can be mitigated.
Sensitive Balm has a creamy, slightly oily texture and leaves the skin feeling soft and saturated. With a really small amount used, there is no greasy or sticky film....
The high-quality and coordinated organic plant oils result in a comedogenicity level of about 5. Depending on the individual skin condition, it is very well tolerated by very dry and mature skin.
Sensitive Balm has a creamy, slightly oily texture and leaves skin feeling soft and saturated. With a really small amount used, there is no greasy or sticky film....
MASSAGE BALM
It can also be used wonderfully as a massage balm, as it is a medium spreading oil combination that is easy to spread and you can gently glide your fingers over the skin.
TARN SKIN
The balm can be used on the face but also on the body as skin care and is very compatible. Dry skin is immediately softened and tenderly cared for and a pleasant skin feeling is created.
UNSERE TIPPS
Further application possibilities in the daily care routine
Intensive care
The Soft Balm can be used not only on the skin of the face and body as a basic care, but also offers other uses as intensive care.

Here we present you different ways to use the balm and its nourishing properties also for your nails, hair and especially dry skin areas.
Under the makeup or sunscreen
A small amount of balm can be wonderfully used as a makeup base or protective day care, after the application of a moisturizing toner or a hyaluronic serum .

This balm, especially for dry and dehydrated skin, can be applied well under sunscreen products and prevents early onset of dryness.
The Sensitive Balm as a cleanser
To clean sensitive skin areas, it is not always necessary to use soap and water. Oils reliably dissolve dirt without unnecessarily irritating the skin. To do this, take some balm, rub the skin area with it and remove the dissolved dirt with a lukewarm, damp cloth. In this way, the skin is gently cleaned and not burdened by surfactants.

If any oil residues are to be additionally removed, the use of a very mild cleanser is advisable. The very gentle Clay Cleanser from Lipid Glory, a very mild and moisturizing cleansing balm, is suitable for this purpose, for example.
The Sensitive Balm as a care booster for the moisturizer
To give a moisturizing cream an extra dose of care, a small amount of balm can be mixed with the cream in the palm of the hand. This makes the moisturizer richer and even more nourishing. Here, too, it is useful to increase the absorption capacity of the moisturizer by using a hyaluronic serum or a moisturizing toner beforehand. A well moisturized skin allows subsequent products to penetrate the skin much faster.

The Hydrating Serum or the Balancing Toner from LIPID GLORY's waterline provide intensive moisture for the skin. The Hydrating Serum is a moisturizing serum with hyaluronic acid and the Balancing Toner has a balancing effect with niacinamide.
LIP CARE
As an intensive lip care, the properties of the balm can take effect and quickly repair rough and chapped lips. Just before going to bed, the balm can be applied and act as a lip care overnight.
NAIL CARE
As intensive care, the oil acts it keeps the cuticle supple and can prevent cracks, inflammation and HAAs intensive care, it keeps the cuticle supple and can prevent cracks, inflammation and callus. Healthy nail growth can be promoted by a well-groomed and soft cuticle.ornhaut prevent. Healthy nail growth can be promoted by a well-groomed and soft cuticle.
EYEWARE
Eyebrows are also happy about an intensive treatment with the balm. With long-term use, they become fuller and grow back stronger.
EXTRAPORTION PFLEGE
As a nourishing booster, a small or larger amount can be mixed into the day cream, night cream, serum or body lotion. This increases the moisturizing benefits of a cream in no time at all.
HAIR CARE
The balm is very suitable to give more shine to dull hair and split ends. It can be washed out without residue with a mild shampoo. The balm can be used in small doses either for styling or leave on overnight.
APPLICATION FOR PARTICULARLY DRY SKIN
Very dry skin areas around the elbows, shins or feet benefit especially from the intensive care provided by the Soft Balm. The softening effect prevents cracks or inflammation and the skin is also visually softer immediately. Possible itching due to extremely dry skin is quickly relieved.
WIMPLE CARE
The same applies to the eyelashes. Through regular care with the Intensive Balm, they become more elastic and no longer break off so easily. The nourishing ingredients promote growth and can gain fullness when applied over a few weeks.
Notice:
The consistency of the balm may change depending on the temperature. For example, if it gets very cold, the consistency of the balm becomes somewhat firmer. At cold temperatures, the cocoa butter contained in the balm forms fine crystals, creating tiny lipid beads in your balm. You can simply melt these in the palms of your hands.

In principle, a balm behaves in the same way as other firmer lipids, such as coconut oil, which tends to be soft at room temperature and becomes firmer at cold temperatures. However, these changes in consistency have no effect on the wonderful care effect of the Soft Balm.
The ingredients combined in the Intensive Balm are considered to be very tolerable for the skin overall. However, before using it, you should consider the following points:
In case of a known allergy to nuts or almonds, medical advice should be sought prior to use.
If products containing nut oils have never been used before, a patch test on a small area of skin on the forearm can show whether there may be a reaction with irritation.
If the skin does not react with redness, pustules, swelling or other irritations after a few hours, it is safe to use the balm on other areas of the skin.
Please always make sure that no moisture gets into the crucible!
If you have any questions about our Intensive Balm, we would be happy to hear from you. Write us an e-mail or use our contact form.

We wish you much joy with the care of our Intensive Balm, relaxing feel-good moments and patience and gratitude with your skin.