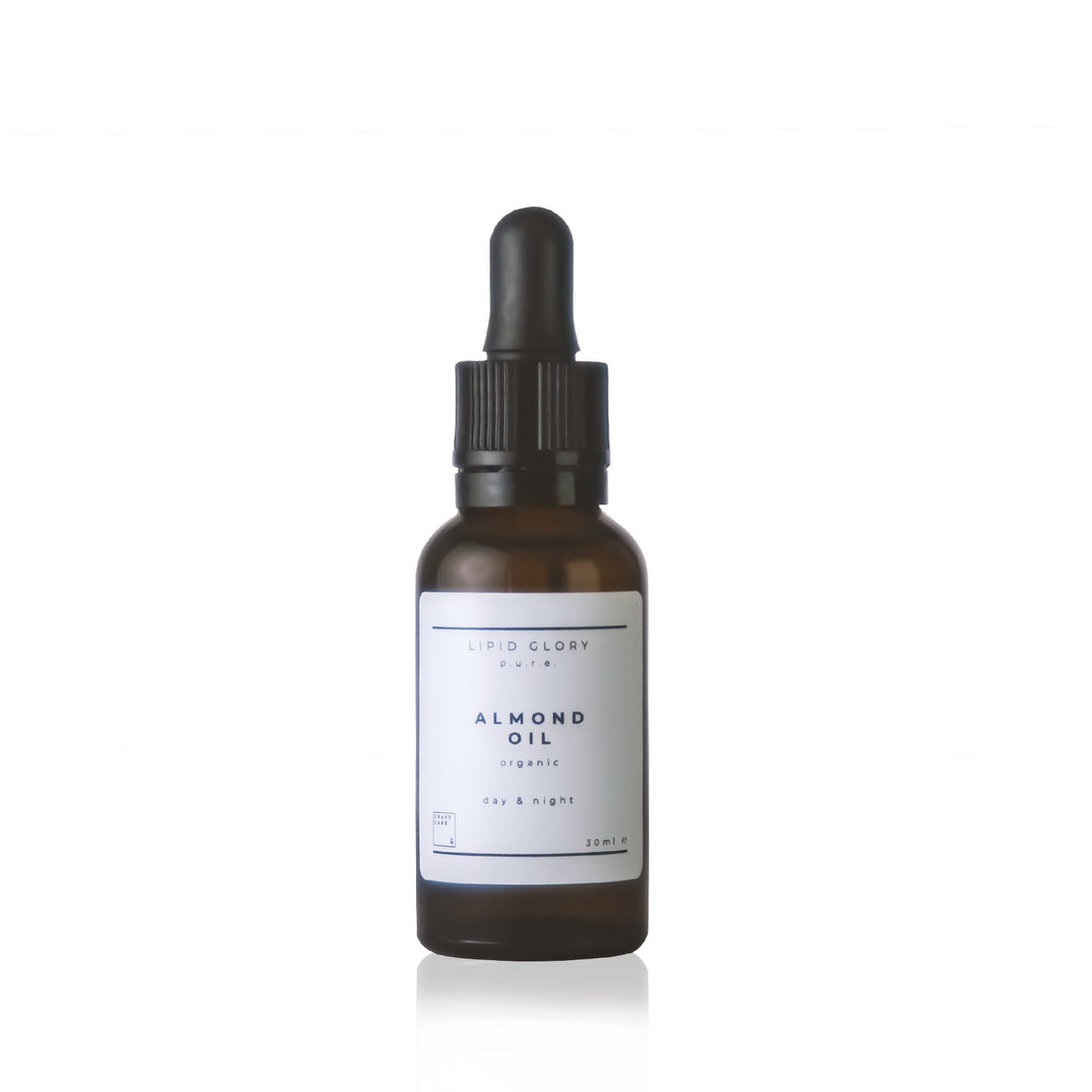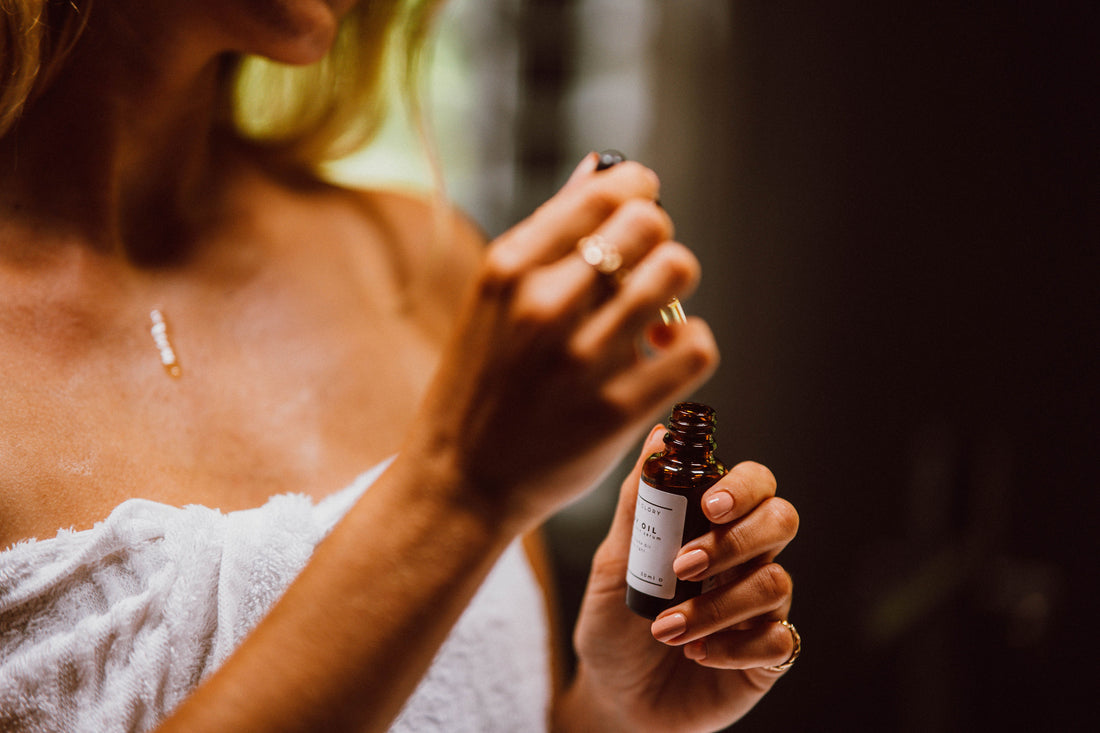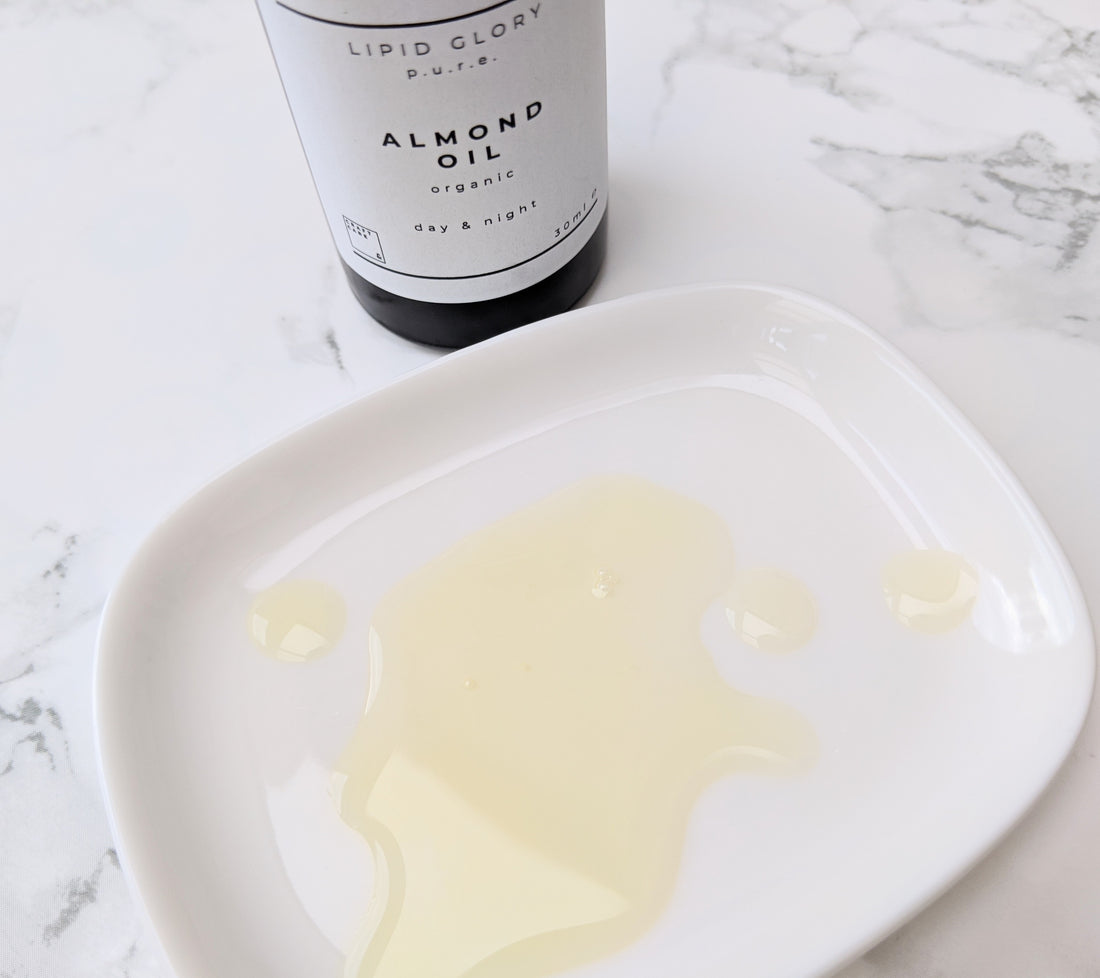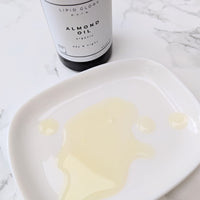 Organic Almond Oil
€14,90
Sale

• Save
Unit price
€49,67
per
100 ml
Each
incl. VAT and plus Shipping strong> p>
p>
As care for the skin, it is also suitable for sensitive skin and can also be used for babies and toddlers. It cares the skin soft and supple and protects from external environmental influences. Almond oil sinks in relatively quickly and leaves a delicate skin feeling. Span> p>
Table of Contents
OVERVIEW
BENEFITS
INGREDIENTS & PROPERTIES
ALMOND OIL AS SKIN CARE
ALMOND OIL AS HAIR CARE
TIPS
OVERVIEW
The Lipid Glory P.U.R.E. almond oil comes from controlled organic cultivation and is obtained from the kernels of the sweet almond (Prunus dulcis var. dulcis). Almond oil can also be pressed from the bitter almond (Prunus dulcis var. amara), but only the oil of the sweet almond is used for cosmetic products and treatments as well as for consumption.
Organic almond oil is an excellent oil for sensitive and irritated skin, as it is particularly mild and low in irritants. It is also an ideal care oil for babies. It makes the skin supple, prevents the skin from becoming rough and prevents moisture loss.
Sweet almonds are a healthy and delicious snack, for example as a very nutrient-rich skin food. Almond oil consumed as a cooking oil is also very healthy and adds many healthy fatty acids, vitamins and minerals to the body. Especially for the skin, almond oil holds a wide range of benefits and application possibilities.
It is important to pay attention to a high quality, because only almond oil from organic cultivation is guaranteed free of pesticides and pollutants. Through the cold-pressed extraction, all the healthy properties of the oil can be preserved for the skin from the outside and from the inside. Almonds are a real nutrient bomb and contain many different fatty acids, fiber, phytosterols, vitamins and minerals. Accordingly, it is no wonder that a cold-pressed and gentle extraction is the guarantor for the many health benefits of almond oil for the skin.
Cold-pressed organic almond oil has a very subtle, mild and slightly sweet scent. Refined oil, on the other hand, is heated and chemically treated and thus loses the typical pleasant scent and many important components.
BENEFITS
Almond oil has been used for centuries in traditional Chinese medicine or in Ayurvedic medicine as a proven oil. It helps to soothe wounds and injuries, soften the skin and nourish and protect it. Nowadays, it is not uncommon to find almond oil in a wide variation of cosmetic products. It is found in almost every other moisturizer, body lotion, baby care and body butter.
Translation missing: en.products.mandelol.p3_2_html
Due to its softening properties as an emollient, almond oil makes the skin supple, nourishes and protects it from environmental influences.
Due to its cell-regenerating ingredients, almond oil refines the complexion, evens out skin tone, and provides increased radiance and that extra glow.
Almond oil is particularly suitable for very dry skin. It is often used as a mild care for psoriasis, neurodermatitis and other eczema.
High-quality and pure almond oil has no comedogenic effect and is very popular, especially for oily and blemished skin.
High-quality almond oil can help support acne because the fatty acids it contains have a regulating effect on excessive oil production by the skin and the vitamin A (retinol) it contains can reduce the visibility of acne scars and stimulate cell regeneration.
Organic almond oil has a high content of vitamin E, which protects the skin as one of the strongest antioxidants, against environmental influences. At the same time, it can help the skin to recover from the damage caused by sun exposure.
Scars and stretch marks can be alleviated by almond oil because it stimulates the skin cells to divide. Almond oil can also be used regularly to prevent scars or stretch marks.
Almond oil protects the skin from transepidermal water loss, as it provides the skin with important lipids and creates a kind of protective and breathable film on the skin.
INGREDIENTS & PROPERTIES
What are the nutrients in organic almond oil?
Ingredients:
Prunus Amygdalus Dulcis Oil* (organic almond oil).
*From controlled organic cultivation.
As already mentioned, there are two types of almonds, the sweet almond and the bitter almond. Since the bitter almond contains the ingredient glycoside amygdalin, which can contain up to 8%, the bitter almond is not suitable for use as cosmetics or food. Enzymes break down glycoside amygdalin and toxic hydrocyanic acid and benzaldehyde are produced. So we dedicate ourselves exclusively to the ingredients and components of the sweet almond.
Vitamin A: The retinol in vitamin A has the property to stimulate the production of new skin cells and is an active ingredient in the field of anti-aging. If the regenerative capacity of the skin is stimulated, fine lines and enlarged pores can be mitigated in the long term. The reduction of wrinkles and pore size results in a fresher and more radiant skin appearance and provides a beautiful glow. The radiance of the skin is thus naturally and gently increased.
Vitamin E: One of the most powerful antioxidant vitamins is vitamin E. It prevents cell damage in the skin caused by free radicals. Free radicals are formed by oxidative reactions with substances from the environment and react with the skin cells. Vitamin E is faster, so to speak, and reacts with these environmental toxins before they can attack the skin cells. This vitamin is therefore essential against premature skin aging.
Fatty acids: Almond oil has a high content of unsaturated omega-9 oleic acid, which occurs naturally in the body and is known to promote wound healing. The omega-6 diunsaturated linoleic acid is also found in almond oil, and is also found in about 20% of our skin and regulates water balance. The saturated omega-6 palmitic acid, as a component of the natural acid mantle, is also contained in almond oil. It protects the skin from environmental influences and cares for mature skin in particular, as palmitic acid is broken down in the outer layers of the skin with age.
Zinc: Zinc is an essential trace element and important for the healing of acne, eczema, rashes and other inflammatory skin conditions. In particular, the internal intake of zinc can support the healing of the skin.
Fatty acid spectrum
Oleic acid: ~ 71 %
Linoleic acid: ~ 19
Palmitic acid: ~ 5 %
Remainder: palmitoleic acid ~ 0.7%, stearic acid, alpha-tocopherol and 𝛾-tocopherol.
Almond oil is considered one of the most compatible skin care oils. However, before using it, you should pay attention to the following points:
If you have a known allergy to nuts or almonds, seek medical advice before use.
If almond oil has never been used before, a patch test on a small area of skin on the forearm can show if there may be a reaction with irritation. before using it on the face.
If the skin does not react with redness, pustules, swelling or other irritations after a few hours, it is safe to use the oil on other areas of the skin.
ALMOND OIL AS SKIN CARE
Mild care for all skin types
Due to its fatty acid spectrum, almond oil quickly penetrates deeply into the horny layer of the skin according to studies. If the skin is prepared with moisturizing water-based skin care products it is absorbed even faster as a moist skin is more permeable for the following active agents as e.g. skin care oils.
LIPID GLORY's waterline products, the Hydrating Serum or the Balancing Toner, are ideal for providing the skin with intensive moisturisers.
Almond oil can be used on the face but on the body as skin care and is very compatible. Dry skin is immediately supple and delicately cared for and a pleasant skin feeling is created. Almond oil can also be used wonderfully as a massage oil, since it is easy to distribute as a medium spreading oil and you can gently glide over the skin with your fingers.
Almond oil has a light texture on the skin and is not heavy or too greasy. It leaves the skin feeling soft and does not leave a greasy or sticky film. No matter whether oily or dry skin, almond oil is suitable for all skin types as a base oil for care.
Application for particularly dry skin
Very dry skin in the area of the elbows, shins or feet benefit especially from the intensive care through the mild almond oil. Due to the softening effect, cracks or inflammations are prevented and the skin also becomes visually softer immediately. Possible itching due to extremely dry skin is quickly alleviated.
High-quality organic almond oil can also provide quick relief for dry and chapped lips. The fatty acids in almond oil help the skin to retain moisture, while the contained vitamin E soothes irritations caused by dryness.
Almond oil as a cleanser v
To clean sensitive skin areas, it is not always necessary to use soap and water. Oils dissolve dirt reliably without irritating the skin unnecessarily. To do this, take some oil, rub the skin area with it and remove the dissolved dirt with a lukewarm, damp cloth. In this way, the skin is gently cleaned and not burdened by surfactants.
If any oil residues are to be removed additionally, the use of a very mild cleanser is advisable. For this purpose, e.g. the very gentle Clay Cleanser by Lipid Glory is suitable.
Almond oil as a care booster for the moisturizer
To give a moisturizer an extra portion of care, a few drops of organic almond oil can be mixed with the cream in the palm of your hand. This makes the moisturizer richer and even more nourishing. It also makes sense to increase the absorption capacity of the moisturizer by using a hyaluronic serum or a moisturizing toner beforehand. A well moisturized skin allows subsequent products to penetrate the skin much faster.
The Hydrating Serum or the Balancing Toner by Lipid Glory provide intensive moisture for the skin. The Hydrating Serum is a moisturizing serum with hyaluronic acid and the Balancing Toner has a balancing effect with niacinamide.
ALMOND OIL AS HAIR CARE
Benefits of almond oil in hair care
The moisturizing and nourishing properties of organic almond oil are not only nourishing for the skin, but also for the hair. A few drops give the hair shine and smoothness, split ends and brittle hair is visually softened again and can be temporarily alleviated. Almond oil helps with dry, flaky and itchy scalps by regulating the balance of moisture through the fatty acids. A well-groomed and healthy scalp naturally also results in healthier and more beautiful hair.
Intensive care for the scalp
A light massage with a few drops of almond oil increases the blood flow and allows the valuable ingredients, such as antioxidants and vitamins, to better penetrate the scalp.
Skin cells often accumulate on the scalp and cause itching, irritation and dandruff. Consequently, healthy hair growth is weakened and hair loss can also be the result of dry scalp. Through a regular scalp massage with almond oil, the dead skin cells are loosened more easily and the soothing and caring properties of the oil can unfold. The oil can also be left on the scalp and hair overnight. With a mild shampoo, the oil and the loosened dandruff can be gently washed out.
Prevent hair loss and strengthen hair growth
One of the essential nutrients associated with healthy hair growth is biotin, also known as vitamin H. A derivative of vitamin B, it is often prescribed for hair loss. Biotin can also stimulate hair growth from within as a dietary supplement.
To make combing stubborn hair easier, almond oil treatment can help make hair smoother and easier to comb. Well-groomed hair is more resistant and less prone to knots, split ends and promotes shine and fullness. This is ensured in particular by the oleic acid and linolenic acid, which protect and nourish through their properties as emollients.
TIPS
Further benefits of almond oil in the daily care routine
Almond oil not only cares for the skin and hair, but can also be used in other care routines.
As a nail oil, almond oil can keep the cuticles supple and prevent cracks, inflammation and calluses. The nail growth will be promoted by a well-groomed and soft cuticle.
As an intensive lip care, the properties of almond oil can take effect and quickly repair rough and chapped lips. Just before going to bed, the almond oil can be applied and act as a lip care overnight.
Eyebrows are also happy about an intensive treatment with almond oil. With long-term use, they become fuller and grow back stronger.
The same applies to the eyelashes. Through regular care with organic almond oil, they become more elastic and no longer break off so easily. The nourishing ingredients promote growth and can gain fullness over a few weeks.
As an intensive care booster, a few drops of almond oil can be mixed into the day cream, night cream, serum or body lotion. Thus, the moisturizing benefits of a cream can be increased in no time.
For questions about our organic almond oil, we are happy to hear from you. Write us an e-mail or use our contact form.
We wish you a lot of joy with the care of our organic almond oil, relaxing feel-good moments and patience and gratitude with your skin.