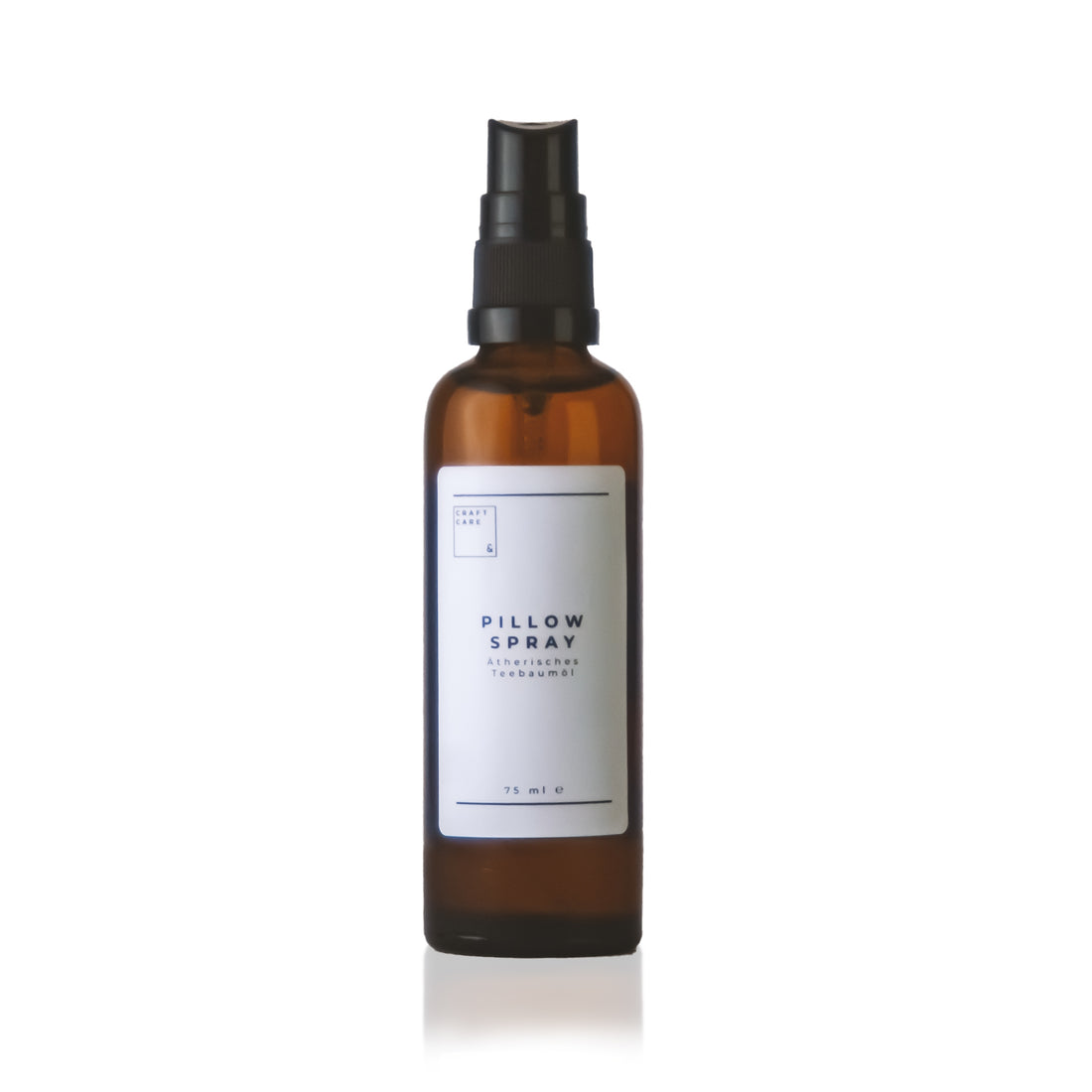 Pillow Spray
€12,90
Sale

• Save
Unit price
€17,20
per
100 ml
Each
incl. VAT and plus Shipping strong> p>
The pillow spray is sprayed regularly on the pillow. With organic essential tea tree oil it supports the daily hygiene of your pillow. span> p>
Tea tree oil is one of the most famous essential oils. It has antibacterial, antimycotic (against fungi) and antiviral properties. Aromatherapeutically it helps against anxiety and stress conditions. span> p>
It has a calming effect, because its pleasantly earthy fragrance calms down and help your senses to relax. As an active ingredient in a pillow spray, tea tree oil contributes to bed hygiene. Span> p>
Application:
The Pillow Spray can be sprayed regularly on the pillow before and after going to bed. Three to four sprays are sufficient to wet the pillow. Then leave to act and dry for approx. 15 minutes before lying down on the pillow.
BENEFITS
The general benefits of the CRAFT & CARE Pillow Spray at a glance:
The pillow spray with organic tea tree essential oil helps to prevent microbial contamination on your pillow. The spray contains alcohol, potassium sorbate and tea tree essential oil ingredients. The combination of ingredients has an antimicrobial, antifungal and antibacterial effect.
Especially with impure or inflamed skin, the Pillow Spray helps to increase bed hygiene. Nevertheless, the pillow should be changed regularly.
Organic tea tree essential oil has a pleasant clean and earthy scent. In aromatherapy, it is often used as a relaxing and anxiety-relieving oil. The scent can help you get in the mood for the night and leave the day behind.
A Pillow Spray makes the evening routine perfect and provides a comforting and cared for feeling.
CONTENTS
Ingredients: Aqua, Alcohol, Melaleuca Alternifolia Oil*, Polyglyceryl-10 Laureate, Potassium Sorbate, Limonene**.
*From controlled organic cultivation **Natural component of essential oils
Ingredient Translation: Water, organic tea tree oil, solubilizer*, potassium sorbate, limonene.
*Made from plant-based raw materials, PEG-free, biodegradable, BDIH-compliant and Ecocert / NaTrue certified.
Organic tea tree oil
Tea tree oil is known to be effective against bacteria and also inhibits the reproduction of fungi and viruses. Tea tree essential oil is therefore antibacterial, antifungal and antiviral in equal measure.
Note: Essential oils have intense effects, therefore the spray should not be used for babies, small children and pets. The spray should not be sprayed directly onto the skin. The spray contains alcohol, please always keep away from children.
If you have any questions about our CRAFT & CARE Pillow Spray, please contact us. Write us an e-mail or use our contact form.
We wish you much joy with the pillow spray, relaxing feel-good moments and patience and gratitude with your skin.