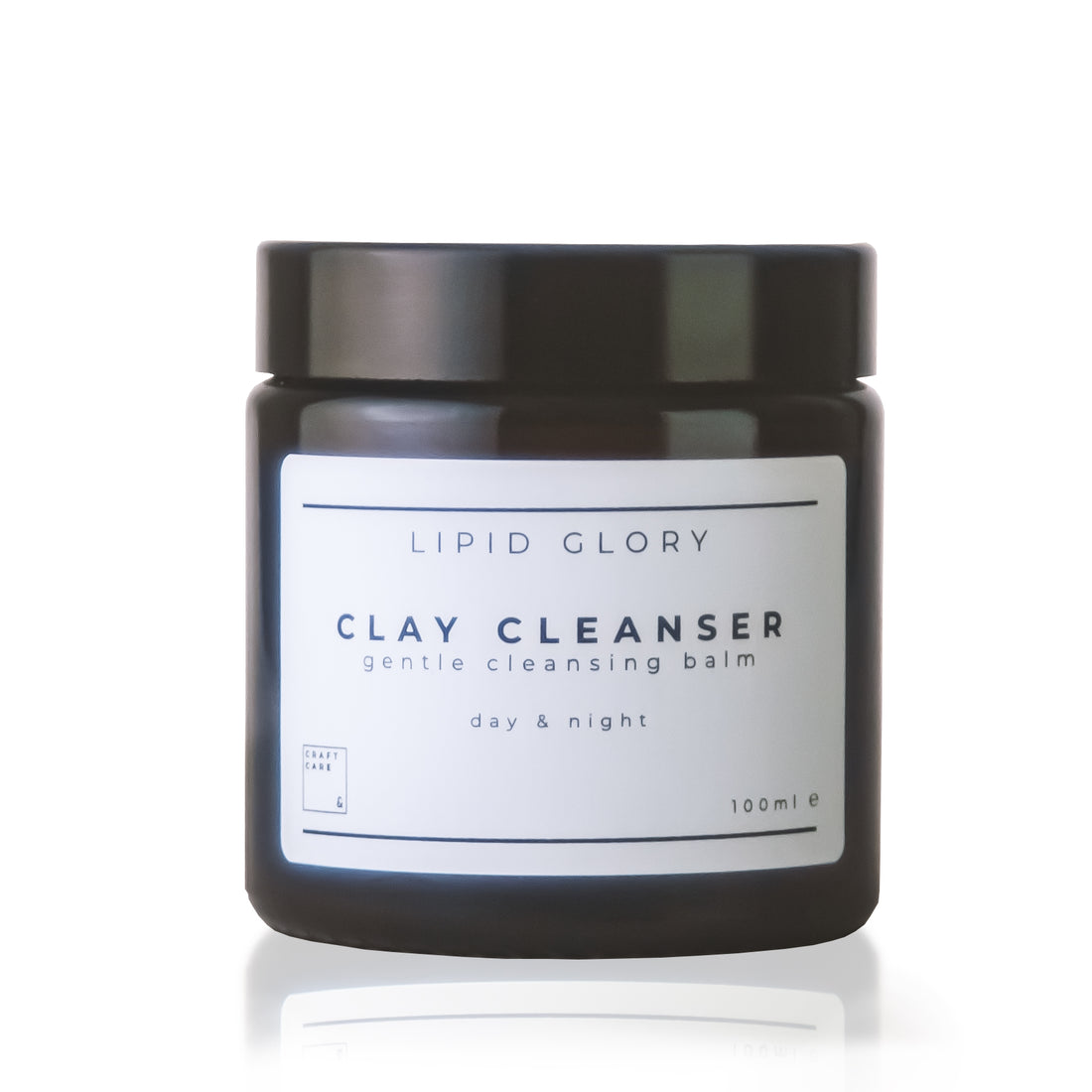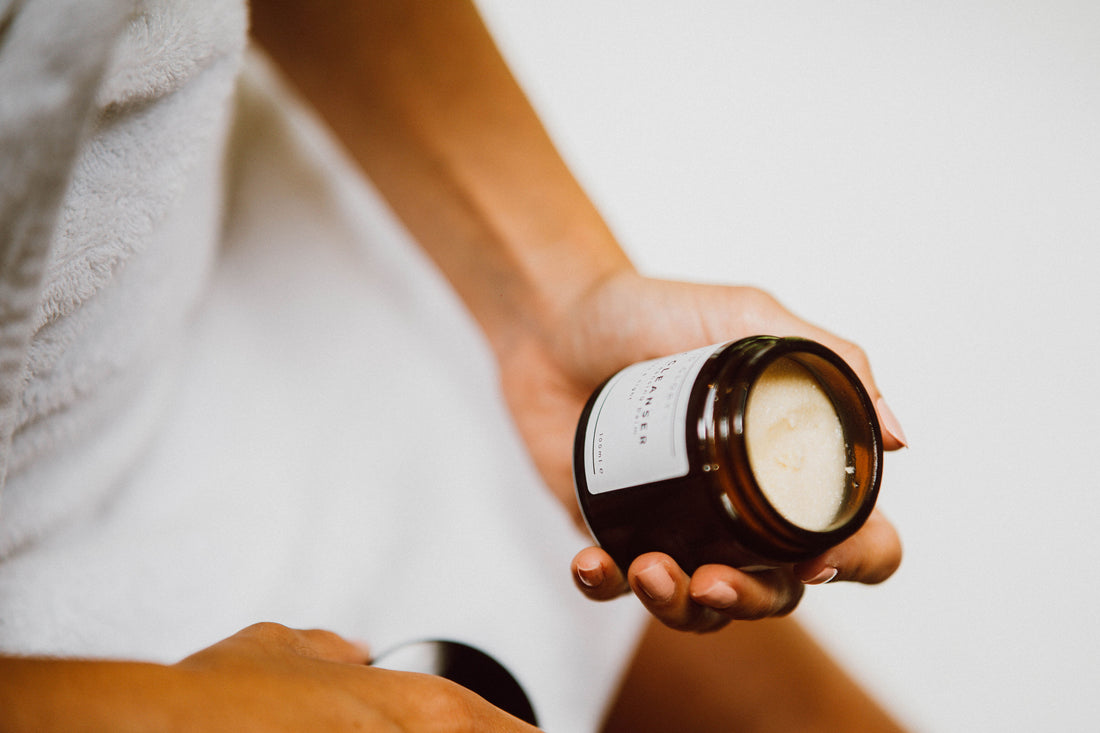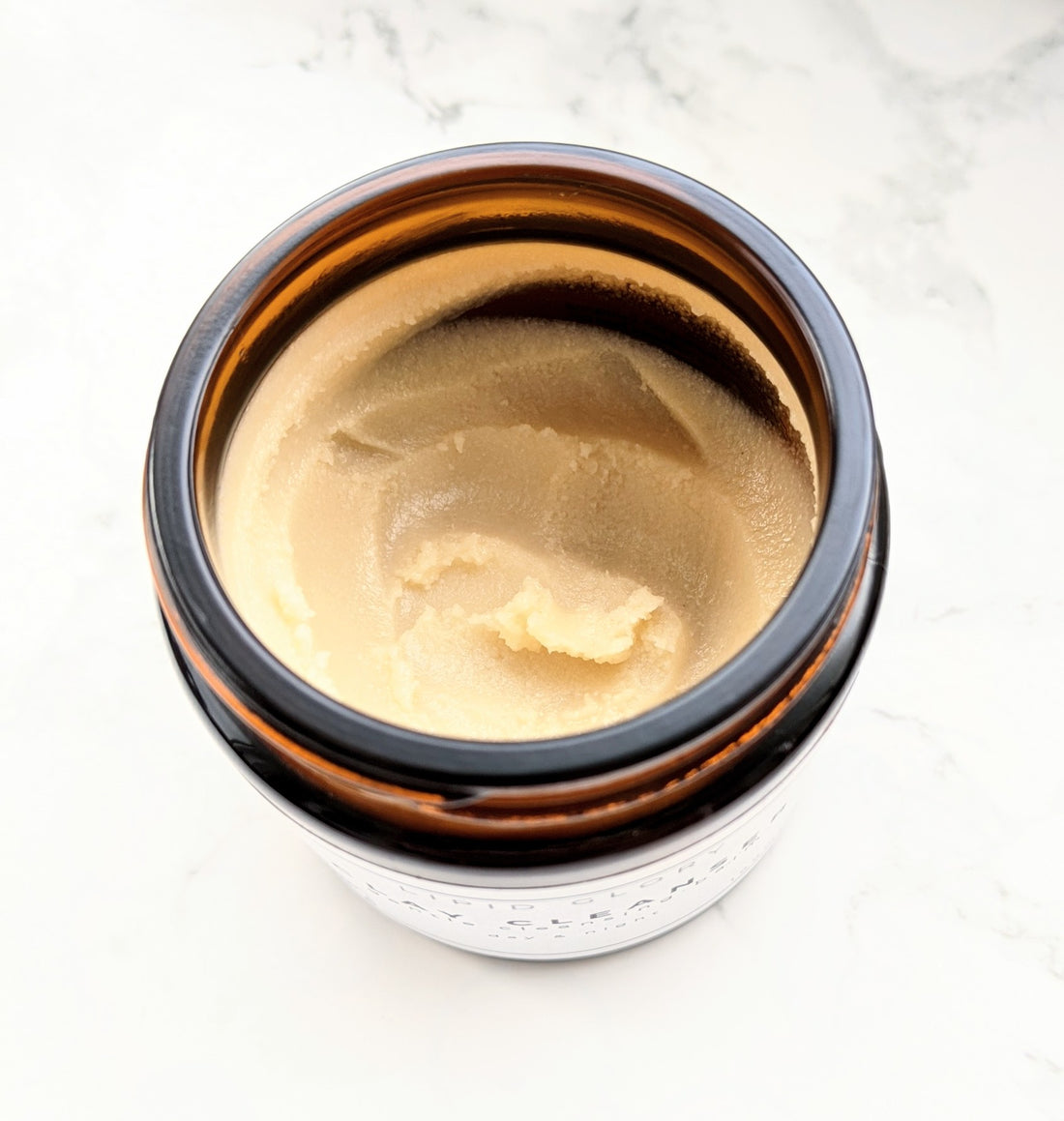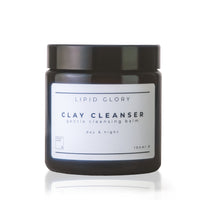 Clay Cleanser
€28,90
Sale

• Save
Unit price
€28,90
per
100 ml
Each
incl. VAT and plus Shipping strong> p>
The Clay Cleanser is a mild cleansing balm containing zero water. It is based on organic oils and is enriched with white Kaolin Clay. Using very gentle emulsifiers and a mild collagen tensid, this Cleansing Balm is able to solve Makeup, sun protection cream, sebum, sweat and dirt gently and emulsifies with water to a milk. It washes off of your face easily and leaves no residue at all. span> p>
The contained coconut oil and safflower oil come from controlled organic farming. All ingredients used are plant based and derived from ecologically responsible origin. span> p>
Thanks to its non-irritating characteristics, the Cleansing Balm preserves the natural skin protection barrier and prevents excessive moisture loss or the stripping of healthy fats of the skin. A moisturizing formulation and yet sufficiently cleansing agents, leave a hydrated and clean feeling on the skin. Span> p>
PROPERTIES
Protect the skin barrier with mild and effective cleansing
Gentle cleansing every day
Clay Cleanser is a mild, oil-based cleansing balm for daily cleansing of facial skin. The Cleanser can be used both in the evening and in the morning. Makeup, sunscreen and other impurities are gently dissolved and the skin is thoroughly cleansed. A further cleansing step, the so-called 'second cleanse', is not necessary, as the Cleansing Balm reliably dissolves all dirt.
Mild cleaning
Clay is known to remove dirt and excess sebum from the skin in a very mild way. Therefore, white clay is also suitable for sensitive and irritated skin. Due to the very mild yet effective emulsifiers contained and the gentle collagen surfactant, the balm emulsifies immediately upon contact with water and immediately transforms into a gentle cleansing milk.
Simple application
With a little lukewarm water, this mild clay cleansing balm can be easily emulsified and washed off without leaving any residue. The Clay Cleanser leaves the skin feeling clean and nourished without drying it out. The familiar 'squeaky clean' feeling is absent.
Very effective
Gentle but thorough cleansing is the basis for subsequent care products. The Clay Cleanser is particularly suitable for this due to its oil-based formulation. The white clay (kaolin) contained supports the cleansing effect and gives the Cleansing Balm its beige color and slightly textured feel.
QUICK INFO
Clay Cleanser
SUITABLE FOR EVERYONE
For all skin types
WITHOUT FRAGRANCES
Free from perfumes
ORGANIC INGREDIENTS
Only organic ingredients
QUICK INFO
Clay Cleanser
HANDCRAFTED
Handmade with love
WITHOUT PALM OIL
For the environment
0% WATER CONTAINED
Oilbased
APPLICATION
Protect the skin barrier with mild and effective cleansing
Clay Cleanser is a way to start a perfect skin care routine with a mild and gentle cleansing. Take a small amount as needed (pea size to hazelnut size) and melt in the palms of your hands. Then slowly and gently massage onto dry skin. With a few drops of lukewarm water, emulsify the balm and continue massaging.
It is also very pleasant to emulsify a small amount of Clay Cleanser directly with a few drops of lukewarm water in your hand and massage your face with the resulting cleansing milk to gently dissolve makeup, sunscreen and dirt.
The cleansing is particularly thorough if two (reusable) cotton pads are moistened and the balm or the resulting emulsion is further massaged in with them. Finally, the cleansing milk (emulsion) is washed off with lukewarm water and the skin is gently patted dry. Now the skin is perfectly prepared for a toner, serum or other moisturizing product.
A tip
The Cleansing Balm removes water-soluble mascara just as reliably. When removing makeup, keep the eyes gently closed so that no product gets into the eye and gently loosen the mascara with careful movements. Even waterproof mascara can be loosened and removed without residue using the cleansing balm. A cotton pad can help to better remove the dissolved mascara. Please proceed particularly gently so that the eyelashes and the delicate skin areas around the eyes are not unnecessarily stressed.
SKIN TYPES
Clay Cleanser is suitable for all skin types, cleanses gently and thoroughly and does not dry the skin.
GENTLE CLEANSING
All skin types
Mild yet thorough cleansing is important to avoid depriving the skin of important lipids or other skin components. In order not to attack the natural acid mantle of the skin, products with a high pH value and aggressive surfactants are counterproductive. Nevertheless, we want to achieve a thorough cleansing that reliably removes all residues that accumulate during the day. Whether it's makeup, creams, sunscreen, sweat or other dirt, it should be gently and effectively dissolved. Ideally in a single cleaning step.
MILD & GENTLE
The Clay Cleanser cleanses mildly, gently and is ideally suited as a moisturizing cleanser for the make-up removal routine in the evening or as a refreshing cleanser in the morning. The application of the Cleaning Balm leaves the skin feeling very clean, nourished and hydrated. You can feel that moisture has been added to the skin and not taken away. The skin's protective barrier remains intact and a feeling of tension or dryness is absent.
INGREDIENTS
What moisturizing ingredients, oils, emulsifiers and surfactants are included in our Clay Cleanser?
INGREDIENTS

Cocos Nucifera Oil*, Carthamus Tinctorius (Safflower) Seed Oil*, Kaolin, Cetylalkohol, Glyceryl Stearate, Decyl Glucosid, Glycerin, Glyceryl Caprylate, Tocopherol, Citric Acid.

*From controlled organic cultivation.

Ingredients Translation: Coconut Oil (organic)*, Safflower Oil* (organic), White Clay (Kaolin), Cetyl Alcohol (emulsifier), Glyceryl Stearate (emulsifier), Decyl Glucoside (collagen surfactant), Glycerin (moisturizer), Glyceryl Caprylate (moisturizer; preservative), Vitamin E Oil, Citric Acid (pH regulator).

*From controlled organic cultivation.
SAFFLOWER OIL
Organic safflower oil is a very light and skin-friendly care oil and is rich in vitamin K and vitamin E. Due to its high content of linoleic acid, it is ideal for oily skin, as it is not greasy and and does not form a film. Comedogen level: 0-1
COCONUT OIL
Organic coconut oil has antibacterial, antiviral and anti-inflammatory properties. Coconut oil has hydrating, regenerating, soothing, calming and cooling properties. Comedogenic level: 3-4. In a "rinse off" product, which is not left on the skin but washed off, coconut oil is also suitable for skin types that normally want to avoid comedogenic oils.
GLYCERYL STEARATE
Glyceryl Stearate is a proven, versatile anionic emulsifier. Its extraction is based on vegetable raw materials. Glyceryl Stearate is also popular as an emollient (softener) and is very compatible...
DECYL GLUCOSID
Decyl glucoside is a purely vegetable, non-ionic collagen surfactant based on coconut oil and glucose. It is ecologically safe, particularly skin-compatible and is popular in cleansing products for babies and toddlers. Decyl glucoside can reduce the irritation potential of other surfactants.
CITRIC ACID
Minimally dosed citric acid to adjust the pH of the Cleansing Balm.
WHITE CLAY
White kaolin clay has a regulating effect on the sebum production of the skin and has gentle cleansing properties. It is a natural source of minerals and antioxidants and has a soothing effect. White clay is excellent also for sensitive and irritated skin.
GLYCERYL CAPRYLATE
Glyceryl Caprylate has a moisturizing, moisture-regulating and antimicrobial spectrum of action. Furthermore, Glyceryl Caprylate is very skin-friendly. It moisturizes and makes the skin smooth and supple.

The intense antimicrobial effect can help and support in a care routine for acne.
CETYLALCOHOL
Cetyl alcohol is not an alcohol in the classic sense, but a lipophilic, vegan consistency enhancer, emollient (softener) and non-ionic emulsifier.

It is very skin-friendly and supports the caring effect of the cleansing balm.
VITAMIN E
Oil-soluble antioxidant, protects oils from oxidation and the skin from environmental influences.
GLYCERIN
Glycerin is an intensively hydrating active ingredient and binds a multiple of water to itself and acts as a "natural moisturizing factor", or NMF for short. It is a natural component of the skin's acid mantle and its own moisturizing system and is therefore very well tolerated. Glycerin acts as a penetration promoter and thus helps to transport moisture into the skin. Depending on the dosage, glycerin provides intensive moisture without leaving a sticky feeling on the skin.

Glycerin soothes irritations, strengthens the skin barrier and protects against external environmental influences. In the cleansing balm, it has a weakening effect on the already very mild and gentle emulsifiers and collagen surfactant.
CITRIC ACID
Minimally dosed citric acid to adjust the pH of the Cleansing Balm.
WHITE CLAY
White kaolin clay has a regulating effect on the sebum production of the skin and has gentle cleansing properties. It is a natural source of minerals and antioxidants and has a soothing effect. White clay is excellent also for sensitive and irritated skin.
BENEFITS
The benefits of the Glory Balm at a glance:
LIPID GLORY
LIPID GLORY Clay Cleanser is the mildest temptation since cleansing balms were invented.

Its skin-protecting properties and mild cleansing action preserves the natural skin protective barrier and does not dry out.

The Clay Cleanser offers numerous benefits for your daily skin cleansing!
The combination of ingredients used gives the cleansing balm moisturizing, mild yet thorough cleansing properties. The skin is left soft and supple cared for and not dried out.
For the removal of eye makeup, the Clay Cleanser can be used without hesitation. It is mild enough not to irritate the delicate skin around the eyes and effectively removes mascara, eye shadow and eyeliner.
Whether used in the morning or evening, Cleansing Balm is perfect for gently preparing the skin for subsequent products. Especially in the morning, a tiny amount of cleansing balm is enough to remove the residues of night care from the skin.
The clay cleansing balm is so mild that it can also be used for the delicate skin on the body of babies or young children. It can be used instead of washing gels or soap.
For dry and sensitive skin, the mildly cleansing cleansing balm is a boon, as it creates a hydrated and nourished skin feeling. All dirt is reliably removed and a second cleansing step is no longer necessary. The skin's natural acid mantle is not attacked by the skin-friendly pH value.
Clay Cleanser is also excellent for very oily, blemished and acne-prone skin, as it does not irritate unnecessarily and removes makeup, sunscreen, excess sebum and other impurities from the skin down to the pores. Oily skin should also be cleansed as gently as possible so that it does not dry out and the skin's protective barrier is preserved.
Our cleansing balm is a very high-yield product because it does not contain water. The balm is, so to speak, a highly concentrated cleaning product, which can be emulsified with the addition of water to a rich milk.
Waterproof lipstick or other "long lasting" makeup products can be dissolved particularly well with the balm. To do this, the balm is first melted with hand heat without adding water and gently massaged in. Then emulsify with lukewarm water and remove the resulting cleansing milk without leaving any residue.
Our cleansing balm is a very high-yield product because it does not contain water. The balm is, so to speak, a highly concentrated cleaning product, which can be emulsified with the addition of water to a rich milk.
Notice:
The consistency of the balm may change depending on the temperature. For example, if it gets very cold, the consistency of the balm becomes somewhat firmer. In warm temperatures, from about 28 ° C, it may happen that some oily liquid settles on the product, but this is not a big deal, just take out a small amount of product as usual and apply it as usual. You can also stir the balm a little with a clean and dry spoon and mix everything again to a homogeneous mass.

In principle, a natural balm behaves in the same way as other firmer lipids, such as coconut oil, which tends to be soft at room temperature and becomes firmer at cold temperatures. Naturally, these changes in consistency have no effect on the care effect of your clay cleanser.
Overall, the ingredients in Tonderde Cleansing Balm are considered to be very tolerable for the skin. However, before using the product, you should consider the following points:
A patch test on a small area of skin on the forearm can show if there is a possible reaction with irritation before using it on the face.
If the skin does not react with redness, pustules, swelling or other irritations after a few hours, the cleansing balm can also be used on other areas of the skin.
Please always make sure that no moisture gets into the crucible!
If you have any questions about our Intensive Balm, we would be happy to hear from you. Write us an e-mail or use our contact form.

We wish you much joy with the care of our Intensive Balm, relaxing feel-good moments and patience and gratitude with your skin.