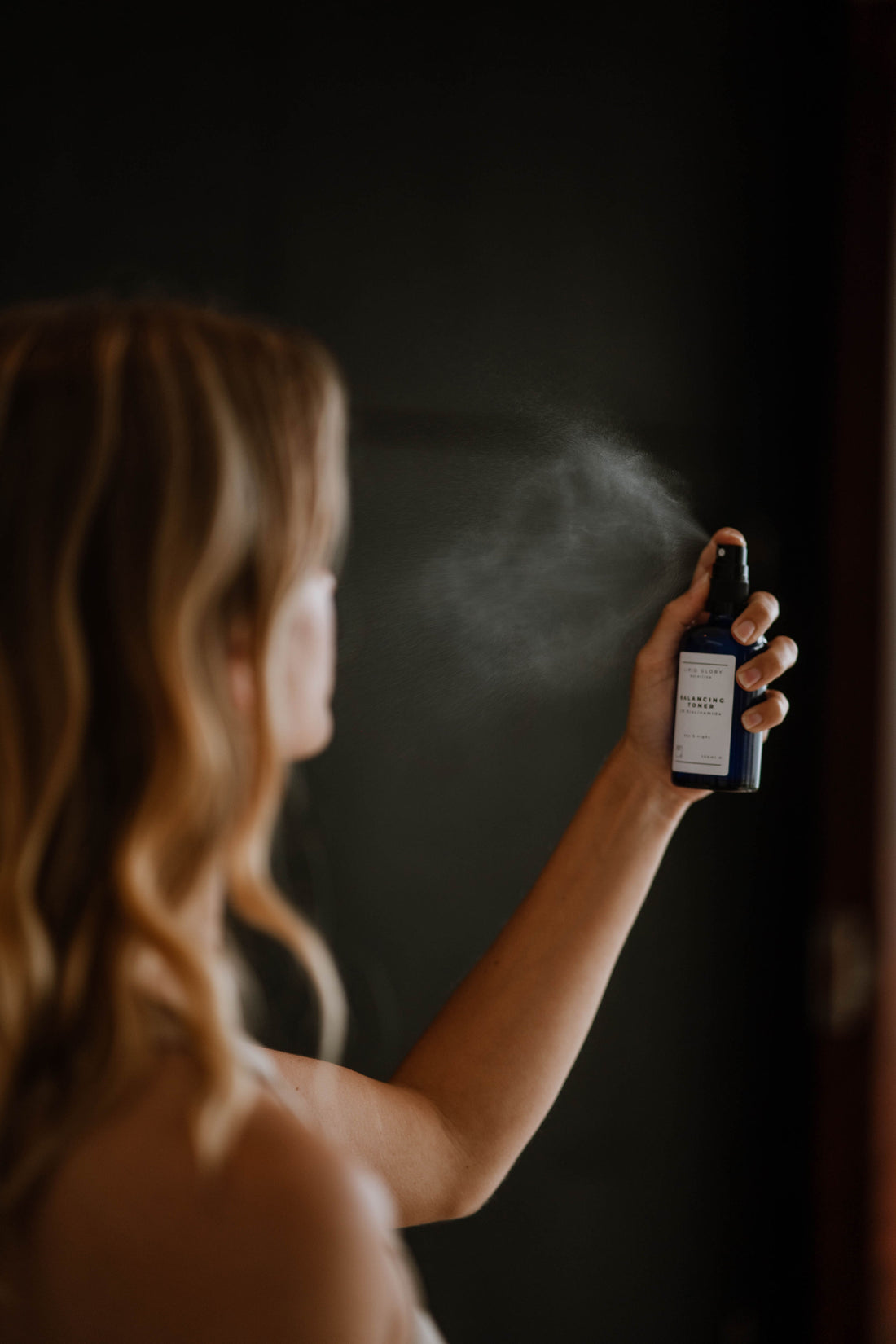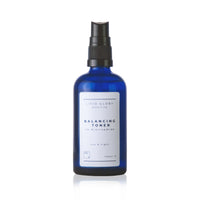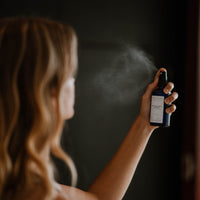 Balancing Toner
€19,90
Sale

• Save
Unit price
€19,90
per
100 ml
Each
incl. VAT and plus Shipping strong> p>
The balancing toner is a very light facial water without oil. The toner can be sprayed directly onto the skin or be given to the hand in the palm. It contains water-storing and binding ingredients that donate intensively moisture. span> p>
The balancing toner contains next to the very compatible moisturizers, the multifunctional active ingredient niacinamide. Niacinamide has a regulating, hydrogenating and protective effect and can help to support the cell regeneration of the skin and thus to mitigate fine lines, enlarged pores and pickups. span> p>
It strengthens the skin protection barrier and is an important ingredient for all skin types in the daily skin care routine. The balancing toner brings a variety of benefits and can be used in various ways. Span> p>
PROPERTIES
Protect the skin barrier with mild and effective cleansing
Long lasting moisture
Balancing Toner moisturizes and regulates the pH of the skin. It provides mild care, is very compatible and is suitable for dry, mature or oily and blemished skin. Formulated with intensely moisturizing and effective active ingredients, the toner protects with antimicrobial and antioxidant properties, leaving the skin soft and supple.
Regulating care
The contained niacinamide (water-soluble vitamin B3) is a multi-talent in skin care. It is hydrating, prevents impurities and moisture loss, refines pores and minimizes fine lines. At the same time, niacinamide boosts the skin's own collagen and ceramide production and thus supports the natural functioning of the skin's protective barrier.
CLARIFIES THE COMPLEXION
With an application concentration of 2% niacinamide, the toner is ideally suited for daily use, in the morning as well as in the evening. Even if no product with niacinamide has been used before, the mild concentration is a gentle introduction to this versatile ingredient. According to research, niacinamide is already effective against impurities and pimples with a concentration of 2%, and is therefore a must-have especially for oily skin.
Complements the skin care routine
The Balancing Toner can be combined very well with other products and active ingredients. The regular addition of the toner to the skin care routine ensures an even and smoother complexion and supports the natural glow of healthy skin. It gains new radiance and looks much fresher.
QUICK INFO
Balancing Toner
SUITABLE FOR EVERYONE
For all skin types
WITHOUT FRAGRANCES
Free from perfumes
NO ALCOHOL
Gentle to your skin
QUICK INFO
Balancing Toner
HANDCRAFTED
Handmade with love
VEGAN
Plantbased ingredients
NO OILS CONTAINED
Waterbased
APPLICATION
The Balancing Toner can be used in many ways
The toner can be sprayed directly onto the face, neck and décolleté.

The light watery texture can be gently mascaraed or patted and is absorbed very quickly.

Our Balancing Toner can also be used as a makeup setting spray, leaving skin feeling hydrated and adding that certain glow.

Also in between, the toner refreshes tired skin and provides a smooth and long-lasting hydrated skin feeling.
The toner is sprayed directly onto the face, neck and décolleté after mild cleansing. It can also be sprayed first into the palm of the hand and then applied to the skin.

You can also put the toner on a cotton pad and gently stroke the skin. After cleansing, the toner absorbs any residue in this way.
Since the Balancing Toner has a watery consistency and perfectly prepares the skin for subsequent care products, it is always applied first to the skin. Afterwards, another serum or oil can be used.

In the palm of the hand, the toner can be mixed with a few drops of oil or balm and then massaged onto the previously moistened skin (toner or serum).
SKIN TYPES
Balancing Toner is a mild water-based moisturizer and is suitable for all skin types.
The Balancing Toner as moisturizing basic care
This light facial toner is a moisturizing and regulating care for all skin types. It refreshes and provides intense moisture and is very compatible.

Whether dry or oily skin, the contained niacinamide brings benefits for all skin types, which it is a regulating multifunctional active ingredient.
Transepidermal water loss
In addition to water-based care, it is important to add lipids to the skin. Depending on the type of oil and the respective composition of different lipids, you can reduce the transepidermal water loss of the skin and thus promote the retention of moisture in the skin.

After application of the Balancing Toner, any further care is better absorbed, since a moisturized skin is much more permeable for thicker care products. The skin's natural protective barrier absolutely needs moisture and lipids to function. Miraculously, you can bring a disturbed skin barrier back into balance with a coordinated care.

LIPID GLORY contains intensively caring, protecting and regenerating lipids rich in nutrients and antioxidants, e.g. in the Intensive Balm or in the Night Oil. All plant oils used are cold-pressed and come from controlled organic cultivation.
INGREDIENTS
What moisturizing ingredients and preservatives are included in Balancing Toner?
INGREDIENTS
Aqua, Glycerin*, Pentylene Glycol**, Niacinamide, Aloe Barbadensis Leaf Juice Powder***, Glyceryl Caprylate****, Potassium Sorbate.

*vegan & GMO-free, **Ecocert & Cosmos, ***From controlled organic cultivation, ****Ecocert & vegan
NIACINAMIDE
Niacinamide, also known as vitamin B3 or nicotinamide, has multifunctional properties. It has a regulating, moisturizing and pore-refining effect, stimulates the skin's own collagen and ceramide production and supports the function of the skin's protective barrier.

Niacinamide supports the skin's defenses against environmental influences and promotes regenerative capacity. In the long term, fine lines and wrinkles can be smoothed. Sallow skin gains radiance and the complexion appears even and fresher. It acts against transepidermal moisture loss and protects the skin from drying out.

Niacinamide is very well tolerated and suitable for all skin types. A mild product with a niacinamide concentration of 2%, according to studies, can be effective against pimples. Niacinamide is therefore ideal for skin that is acne-prone or very oily and impure.
ALOE VERA JUICE POWDER
Aloe Vera is known for its skin-friendly, soothing and nourishing properties. Pure Aloe Vera gel, can be gently dried into highly concentrated powder and thus incorporated into cosmetic products.

Aloe Vera Juice Powder contains polysaccharides and amino acids, which can bind and store a high amount of water. It also contains salicylic acid, which has an anti-inflammatory effect. Furthermore, it contains many vitamins, antioxidants and enzymes.

The contained high-quality Aloe Vera Juice Powder from controlled organic cultivation, has a cooling, soothing and moisturizing effect. It can help against itching and soothes irritated skin.
GLYCERYL CAPRYLATE
Glyceryl Caprylate has a moisturizing, moisture-regulating and antimicrobial spectrum of action. Furthermore, Glyceryl Caprylate is very skin-friendly. It moisturizes and makes the skin smooth and supple.

The intense antimicrobial effect can help and support in a care routine for acne.
POTASSIUM SORBATE
Potassium sorbate, also known as potassium sorbate, is considered a harmless and very skin-friendly preservative in the field of cosmetics and food. It is effective against the colonization of yeast and mold fungi and is broken down into water and carbon dioxide during metabolism in the organism.
GLYCERIN
Glycerin is an intensively hydrating active ingredient and binds many times more water to itself. It is a skin-own component of the acid mantle very well tolerated. Glycerin acts as a penetration promoter and thus helps moisture to be transported into the skin. Depending on the dosage, glycerin provides intensive moisture without leaving a sticky feeling on the skin. Glycerin soothes irritations, strengthens the skin barrier and protects against external environmental influences.
AQUA
Carrier and key ingredient for a moisturizing serum.
PENTYLENE GLYCOL
Pentylene glycol is an ingredient with multifunctional properties. In the product and on the skin, it prevents the formation and growth of microbial organisms, such as germs, bacteria and yeasts. It is well-founded as a preservative and at the same time can increase the effectiveness of other active ingredients. As a polyhydric alcohol, Pentylene Glycol can bind water to itself, thus ensuring the transport of moisture into the skin and providing intense moisturization. This is not a classic alcohol molecule, but a bivalent alcohol, also called a diol. Even with high doses of this active ingredient, there is no dehydration of the skin, but a reliable supply of sufficient moisture.
BENEFITS
The benefits of the Balancing Toner at a glance:
Free of oil and with a comedogenicity level of 0, the toner is very well tolerated and is particularly suitable for oily and blemished skin prone to acne. Pimples can be prevented in your formation and existing impurities subside faster.
The toner has a pleasant watery and clear texture and leaves the skin feeling soft and supple. It is completely absorbed and is not sticky.
The skin-friendly active ingredients used have highly effective antimicrobial properties and strengthen and protect the skin's protective barrier. Dull skin regains its radiance.
A few drops of Balancing Toner are also suitable as mild eye care. As a moisturizing eye care, one to two pump puffs are placed in the palm of the hand. One drop is picked up with the fingertip and gently applied with little pressure, slowly in tapping motions. Especially at the eyes it is recommended to contain the transepidermal water loss.

To achieve this, the hydrophilic fatty acids in vegetable oils help. Protective and nourishing oils, as well as beeswax, each from controlled organic cultivation, are found in the Intensive Balm or in the Day Oil. Lipids prevent to a certain degree that the skin loses the previously absorbed moisture due to environmental influences and other factors. The Balancing Toner in combination with an oil-based care complement a perfect care routine.
For dehydrated, dry and flaky skin, the Hydrating Serum can quickly provide a more beautiful and fresher complexion. The skin's moisture stores are replenished, figuratively speaking, and any mild inflammatory processes are alleviated.
The Balancing Toner provides intense moisture and is non-irritating. The skin is protected and cared for and is more elastic due to a sufficient supply of moisture. Fine lines and wrinkles can be softened or inhibited in their formation.
This balancing toner is formulated very mild and compatible and can be used in the morning as a moisturizing and regulating care. It is non-irritating and is therefore suitable for dry and sensitive, but also for oily and impure skin.
Our Balanicng Toner is a light, hydrating, water-based care with a preservative system consisting of multifunctional active ingredients that have an antimicrobial effect in the product and on the skin, provide intense moisture and strengthen the skin's protective barrier. The toner brings many useful properties to any skin care routine....
This balancing toner is formulated very mild and compatible and can be used in the morning as a moisturizing and regulating care. It is non-irritating and is therefore suitable for dry and sensitive, but also for oily and impure skin.
TIPPS
Further application possibilities in the daily care routine
INDIVIDUAL EMULSION
In the palm of your hand, toner and an oil serum can be easily blended into a spontaneous emulsion for an even faster absorbing blended serum.
FOR TOUCHUPS
Sprayed onto a cotton pad, the Balancing Toner can be used to quickly remove makeup and dirt from smaller areas of skin, e.g. under the eyes sandt. It is particularly practical for "touchups" during the day. Subsequently, a sunscreen can be applied, for example, or a fresh makeup can be applied.
FOR FLYING HAIR
The Balancing Toner is also perfect to quickly tame flyaway and dry hair and nourish without weighing it down.
MOISTURE BOOST
The Balancing Toner is great for a moisture boost throughout the day without leaving your skin feeling dry. Be sure to try it out!
SETTING SPRAY
As a setting spray after makeup application, the toner creates a delicate "dewy" look and keeps skin feeling fresh.
PROMOTES PENETRATION
The absorption of oils, balms and moisturizers is supported and facilitated when the skin is previously moisturized. The Balancing Toner prepares the skin perfectly. A well moisturized skin is more permeable for subsequent active ingredients and allows further products to penetrate the skin much faster.

The toner provides the skin with moisture. In order not to lose this again via transepidermal water loss, a subsequent care with lipids protects. Depending on personal needs and the condition of the skin, a light oil, a rich balm or a light individual emulsion is suitable to obtain a protective care.
PREPARES THE SKIN
Before any subsequent care in the morning or evening, the toner ideally prepares the skin, moisturizes it and makes it much more permeable to other ingredients.
KEEPS YOUR CLAY MASK MOIST
Also during the application time of a toner mask, it prevents regularly sprayed the rapid drying of the mask. Thus, you prevent the extreme almost painful effect of dry clay on the skin. In addition, clay works best when it is moist.
Notice:
Overall, the ingredients in Balancing Toner are considered very compatible for the skin. However, before using the product, you should consider the following points:
If the skin does not react with redness, pustules, swelling or other irritations after a few hours, the toner can be used on other areas of the skin.
A patch test on a small area of skin on the forearm can show if there is a possible reaction with irritation before using it on the face.
If you have any questions about our moisturizing serum, we would be happy to hear from you. Write us an e-mail or use our contact form.

We wish you much joy in caring for your skin with the Hydrating Serum, relaxing feel-good moments and patience and gratitude with your skin.