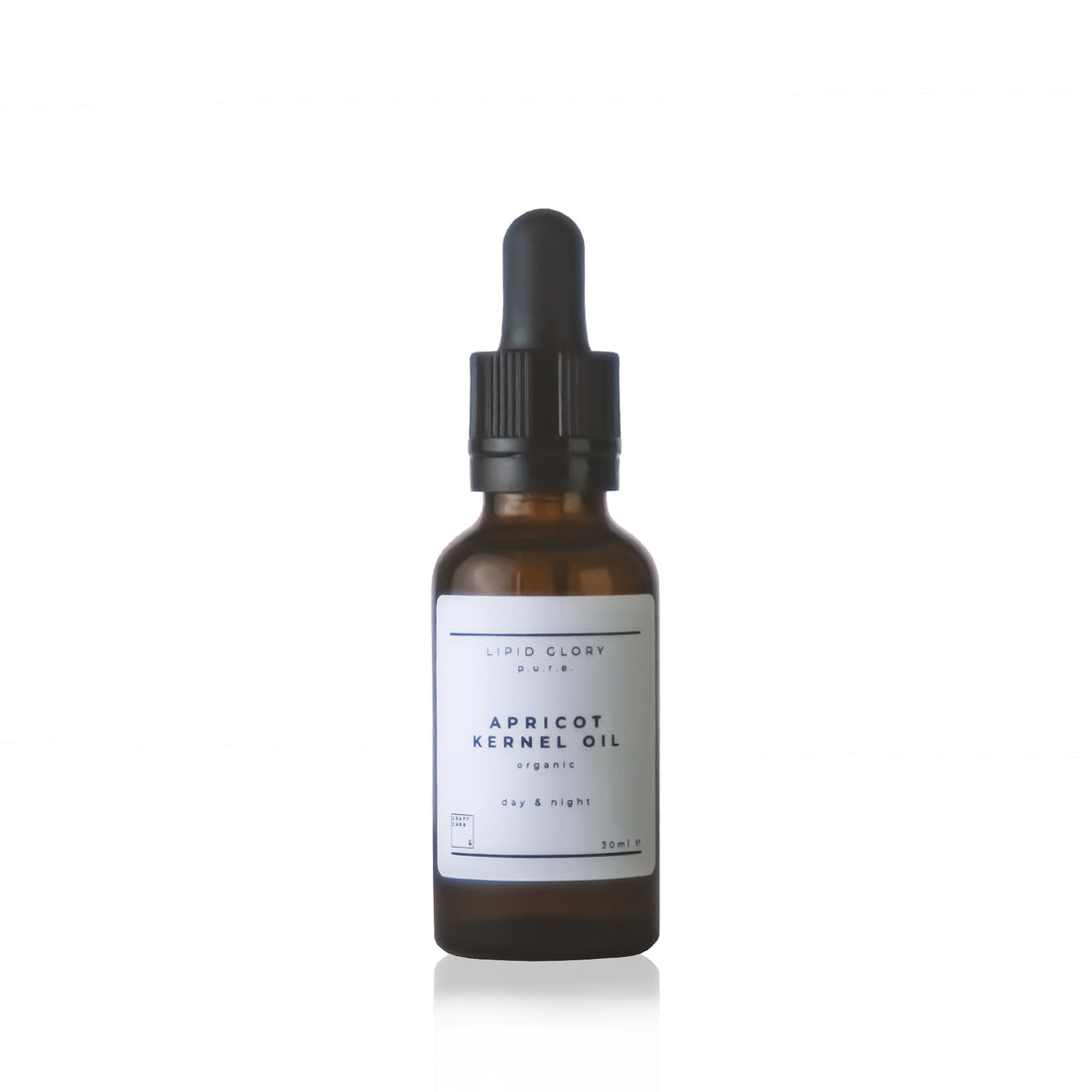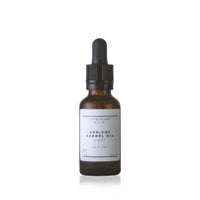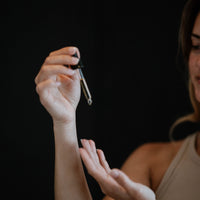 Apricot Kernel Oil
$17.00
Sale

• Save
Unit price
$56.67
per
100 ml
Each
incl. VAT and plus Shipping strong> p>
Apricot kernel oil is one of the mildest basic oils in skin care and is ideal for sensitive skin. Especially for the delicate baby skin, this very well-tolerated vegetable oil is ideal. Our Lipid Glory Apricot Oil comes from controlled organic farming and is obtained by gentle cold pressing. span> p>
Apricot kernel oil absorbs into the skin quickly and leaves a silky and soft skin feel. It has a characteristic fragrance of marzipan and keeps some positive properties for all skin types. Span> p>
OVERVIEW
Apricot kernel oil is one of the mildest base oils and is especially popular for very sensitive and delicate skin. For the care of baby or children's skin it is a very compatible skin care.
It is absorbed quickly into the skin, but not particularly deeply. Nevertheless, it has softening fatty acids and provides a supple skin feeling. It protects the skin from environmental influences and prevents moisture loss from the skin.
It is important to pay attention to a high quality, because only apricot kernel oil from organic cultivation is guaranteed free of pesticides and pollutants. The positive properties of the oil for the skin from the outside and from the inside are preserved. Cold-pressed organic apricot kernel oil has a slightly sweet scent of almonds and marzipan. Refined oil, on the other hand, is heated and chemically treated and thus loses the typical pleasant scent and many important components.
The organic apricot kernel oil is a component of the Lipid Glory Day Oil.
Skin types
The organic apricot kernel oil is suitable for all skin types but especially the sensitive skin is happy about this millde base oil. Its caring effect and skin compatibility make it a mild oil, which is even suitable for sensitive baby skin. Even irritated or irritated skin can be soothed by apricot kernel oil.
Application
Apply a few drops of apricot oil to previously cleansed skin. As is true for all skin care oils, this oil is best absorbed when the skin is still very slightly moist.
The light texture of the oil also makes it a nourishing hair oil for long and slightly thicker hair. To do this, a few drops of the oil are added to the still damp hair, distributed and then styled as usual. It provides suppleness, shine and protection.
Due to its gliding properties, this mild base oil can also be used wonderfully for massages, for example for a soothing facial massage that promotes circulation.
An oil-based product is absorbed much faster when the skin is well moisturized. The waterline products by LIPID GLORY with the Hydrating Serum or the Balancing Toner are perfect for providing the skin with intensive moisturizers.
Mix your individual emulsion
The apricot kernel oil combines with the Hydrating Serum in seconds to form a spontaneous emulsion. Emulsions can be handy in some skincare routines because, depending on the consistency, they absorb faster and leave a different finish. With the Day Oil combined with the Hydrating Serum, you can decide how light or how rich you want your fluid, lotion or cream to be. Mix a fresh emulsion according to your individual needs, without emulsifiers, additional preservatives, gelling agents or stabilizers.
A small, arbitrary amount of the serum is mixed with a few drops of oil, in the palm of the hand with quick and circular fingers, to form an emulsion and then gently massaged in. Prior to this, the skin can be prepped with the hydrating and balancing Balancing Toner. The Hydrating Serum itself can also provide an extra moisture booster before applying the emulsion.
As a light and protective base care for the day, apricot kernel oil, applied under sunscreen, can make skin feel softer.
BENEFITS
Apricot kernel oil is a mild yet effective oil in skin care. The high content of oleic acid provides the smoothing care effect and the light skin feeling after application. It is one of the semi-drying oils. It protects against environmental influences, helps to soften and nourish the skin. It can be combined very well with other oils and is overall compatible for all skin types.
The general benefits of apricot kernel oil at a glance:
Apricot kernel oil nourishes the skin and is known to be non-irritating. It is also perfectly suitable as a basic care for very sensitive skin or sensitive combination skin. The contained linoleic acid gives the oil its smoothing and slightly regenerative effect.
The high content of oleic acid makes the oil an ideal care for the skin's protective barrier and provides a soft and tender skin feeling.
High-quality and pure organic apricot kernel oil strengthens the natural skin protection barrier with its fatty acid spectrum and prevents transepidermal water loss.
Apricot kernel oil protects the skin and provides the skin with important lipids, which form a kind of protective and breathable film on the skin.
INGREDIENTS & PROPERTIES
What nutrients are contained in organic apricot kernel oil?
Ingredients: Prunus Amygdalus Dulcis Oil* (Bio-Mandelöl).
*From controlled organic cultivation.
Apricot kernel oil is a relatively oxidatively stable base oil. It is extracted from the kernels of bitter wild apricots and has a delicate, slightly sweet almond scent. The oleic acid, the largest fatty acid component of apricot kernel oil, ensures a quick absorption of the oil, the linoleic acid component provides a light skin feel.
In apricot kernel oil, especially the fatty acid spectrum is in the foreground, which can be overall soothing and soothing for irritated and irritated skin. Likewise, a protective and slightly regenerating effect is due to the fatty acid spectrum. Nutrients as e.g. vitamin E and vitamin A are not found in significant amounts in apricot kernel oil. Comedogenic level: 2-3
Fatty acid spectrum
Oleic acid: ~ approx. 65 - 70 %.
Linoleic acid: ~ 23
Palmitic acid: ~ 5 %
Apricot kernel oil is considered one of the most compatible skin care oils. However, before using it, you should pay attention to the following points:
If apricot kernel oil has never been used before, a patch test on a small area of skin on the forearm can show if there may be a reaction with irritation. before using it on the face.
If the skin does not react with redness, pustules, swelling or other irritations after a few hours, it is safe to use the oil on other areas of the skin.
APRICOT KERNEL OIL FOR SKIN CARE
Intensive care for all skin types
Apricot kernel oil is a basic skin care product suitable for many skin types due to its fatty acid spectrum.
Apricot kernel oil as a care booster for the moisturizer
To give a moisturizer an extra dose of care, a few drops of organic apricot kernel oil can be mixed with the cream in the palm of the hand. A cream can thus be added useful fatty acids and nutrients. Again, it is useful to increase the absorbability of the moisturizer by using a hyaluronic serum or moisturizing toner beforehand. A well moisturized skin allows subsequent products to penetrate the skin much faster.
The Hydrating Serum or the Balancing Toner by Lipid Glory provide intensive moisture for the skin. The Hydrating Serum is a moisturizing serum with hyaluronic acid and the Balancing Toner has a balancing effect with niacinamide.
APRICOT KERNEL OIL FOR HAIR CARE
Benefits of apricot kernel oil in hair care
Apricot kernel oil not only moisturizes and cares for the skin, but also brings some benefits when it comes to hair care. Just a few drops of the oil, give hair that suffers a little split ends or dryness, quickly more suppleness and shine.
Intensive care for the scalp
A light massage with a few drops of apricot kernel oil increases the blood flow and thus stimulates the skin's own cell regeneration. Skin cells often accumulate on the scalp and cause itching, irritation and dandruff. Consequently, healthy hair growth is weakened and hair loss can also be the result of dry scalp. A regular scalp massage with apricot kernel oil helps to loosen the dead skin cells and the soothing and caring properties of the oil can unfold. The oil can also be left on the scalp and hair overnight. With a mild shampoo, the oil and the dissolved dandruff can be gently washed out.
Prevent hair loss and strengthen hair growth
One of the essential nutrients associated with healthy hair growth is biotin, also known as vitamin H. A derivative of vitamin B, it is often prescribed for hair loss. Biotin can also stimulate hair growth from within as a dietary supplement.
Apricot kernel oil helps to make hair smoother and easier to comb. Well-groomed hair is more resistant and less prone to knots, split ends and promotes shine and fullness. This is especially ensured by the oleic acid, which protects and nourishes through its properties as an emollient.
TIPS
Further benefits of apricot kernel oil in the daily care routine
Apricot kernel oil is a mild oil with many positive properties. It nourishes, moisturizes and protects.
The general benefits of apricot kernel oil at a glance:
The organic Apricot Oil is a pleasantly light care oil for the day. It protects the skin from moisture loss by providing the skin with important lipids and a kind of protective and breathable film on the skin.
A drop mixed into foundation or makeup provides smooth application and a dewy finish. The oil can also be used as a liquid highlighter for a subtle glow on the cheekbones, eyebrows or upper lip.
Thanks to its emollient properties, the liquid vegetable wax softens the skin and makes it more resistant.
In the area of the delicate eye skin, apricot kernel oil can be used as a mild eye care. The lipids increase the skin elasticity and thus prevent the formation of fine lines.
Apricot kernel oil can also be used as an all-round care for the lips or cuticles. Brittle skin quickly becomes supple again.
If you have any questions about our LIPID GLORY Apricot Oil, please contact us. Write us an e-mail or use our contact form.
We wish you much joy with the care of our organic apricot kernel oil, relaxing moments of well-being and patience and gratitude with your skin.