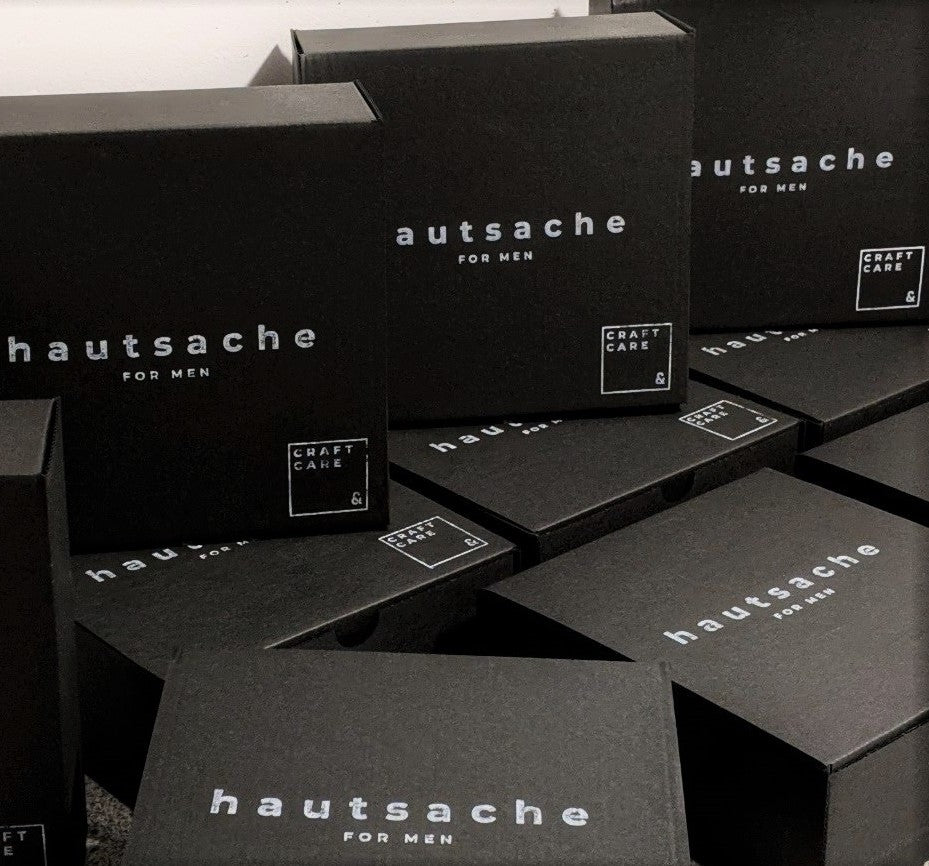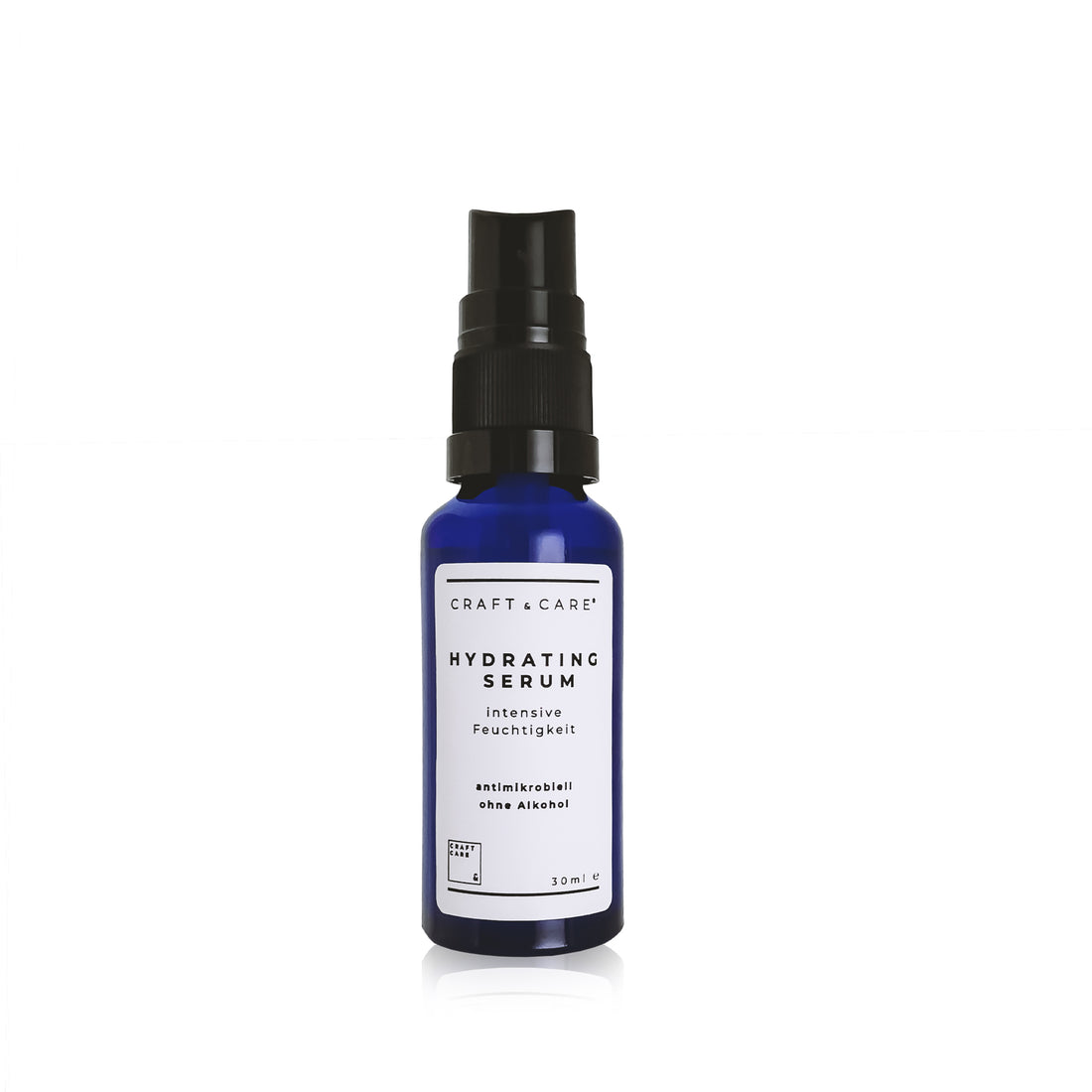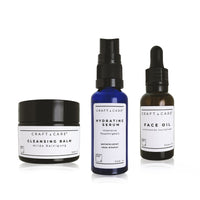 Inkl. MwSt. und zzgl. Versand
hautsache for men. Das CRAFT & CARE Pflegeset für Männer besteht aus drei Produkten für eine gepflegte und geschmeidige Männerhaut. In drei Schritten erklären wir dir, wie eine milde und effektive Pflegeroutine schnell und einfach in den Alltag integriert wird. Das Set besteht aus einem Reinigungsbalsam, einem Feuchtigkeitsserum und einem Pflegeöl. Wir versenden das hautsache Pflegeset in einer schicken Box aus schwarzer Wellpappe. 
INHALT
Cleansing Balm 50 ml
Hydrating Serum 30 ml
Face Oil 30 ml

TABLE OF CONTENTS
Overview
STEP 1,2,3
Application
Features
Ingredients
OVERVIEW
skin thing for men. A cleansing balm "Cleansing Balm", a moisturizing serum "Hydrating Serum" and a care oil "Face Oil" form our set for mildly cared for and supple men's skin. The products contained in the set are identical in content to three products from our LIPID GLORY skin care line. The difference is that 'man' is taken by the hand with our hautsache care set. In three steps, we explain how a mild and effective care routine can be quickly and easily integrated into everyday life.
STEP 1,2,3
Step 1 - MILDE REINIGUNG
CLEANSING BALM - Cleansing Balm
Reliably dissolves dirt, grease and sebum - morning and evening
Mild surfactants, emulsifiers & clay for gentle cleansing
Does not dry out your skin and preserves the skin's protective barrier
Prevents impurities and keeps the skin elastic
Can be washed off without leaving any residue
Perfect for a gentle wet shave
Step 2 - INTENSIVE MOISTURE
HYDRATING SERUM - Moisturizing Serum
Cares for your skin with antimicrobial active ingredients after cleansing and shaving
Contains no alcohol
Moisturizing formula with low and high molecular weight hyaluronic acid, glycerin and pentylene glycol
Absorbs extremely quickly and soothes the skin immediately
Prevents impurities and protects against inflammation
Mixes perfectly with the care oil to form an even faster-absorbing fluid
Step 3 - SCHÜTZENDE PFLEGE
FACE OIL - Light skin care oil
Light care for your skin & beard
Makes your skin supple and keeps it elastic - prevents wrinkles
Antioxidants and important fatty acids preserve the skin's protective barrier and protect against environmental influences
Contains jojoba oil, almond oil and other vegetable oils from controlled organic cultivation
PROPERTIES
CLEANSING BALM - Properties
The Cleansing Balm is a mild cleansing balm based on oil and white clay. With the help of very gentle emulsifiers and a mild collagen surfactant, this Cleansing Balm is able to gently dissolve sunscreen, sebum, sweat and dirt and emulsify with water to a washable milk.
The contained coconut oil and safflower oil come from controlled organic cultivation and also the other ingredients used are of plant-based and ecologically responsible origin. Due to its non-irritating or irritating cleansing effect, the Cleansing Balm preserves the natural skin protection barrier and prevents excessive degreasing of the skin. A moisturizing formulation, yet sufficient cleansing ingredients, leave the skin feeling hydrated and clean.
Skin Types: Clay Cleanser is suitable for all skin types, cleanses gently and thoroughly and does not dry out the skin.
HYDRATING SERUM - Properties
The very light Hydrating Serum provides intensive moisture and helps the skin to store it. Thus, the serum increases the elasticity of the skin and makes it softer, smoother and more resistant.
The contained low and high molecular hyaluronic acid and glycerin provide intensive moisturizing. The serum leaves the skin feeling noticeably pleasant, fresh and light after application.
The ingredients Pentylene Glycol and Glycerin have very moisturizing and retaining properties. The combination of active ingredients in the Hydrating Serum supports the skin barrier while providing antimicrobial properties - perfect to use after shaving!
This moisturizing serum is so lightly formulated that it absorbs very quickly without rolling off. This perfectly prepares the skin for subsequent care, e.g. an oil serum, moisturizer or sunscreen. The serum can also be used very well in combination with other products and active ingredients as a supplement to a care routine.
Skin Types: Hydrating Serum is a mild water-based moisturizer and is suitable for all skin types.
FACE OIL - Properties
The Face Oil is a light skin care for the morning and evening. It is formulated exclusively with light and very compatible base oils and thus has a nourishing, softening and protective effect.
The contained jojoba oil from controlled organic cultivation and the organic apricot kernel oil ensure extra fast absorption. Although it is counted among the base oils, jojoba oil is actually a liquid wax. It is rich in vitamin E, provitamin A and vitamin B6 and has a high content of minerals. Chemically speaking, jojoba oil resembles the sebum of the skin and is therefore absorbed very quickly. The contained provitamin A, also called beta carotene, has a cell-regenerating effect and protects the skin against environmental influences. Vitamin E also provides intensive protection against free radicals and promotes the formation of collagen.
The contained fatty acid spectrum ensures a maintenance of moisture in the skin and thus has a positive influence on the elasticity and forms a protective film on the skin. Despite its numerous caring, protective and regenerating properties, jojoba oil is one of the mildest and most compatible oils and suitable for all skin types.
Skin types: The Face Oil is suitable for all skin types.
It is especially valuable for skin types that tend to pimples, blemishes or acne. In particular, the organic jojoba oil, has a high antimicrobial effect against microorganisms, such as germs or yeasts and can thus prevent the smallest inflammations in the skin.
But also for dry, sensitive and mature skin, this oil serum is ideally suited as an intensively moisturizing care. The selected vegetable oils from organic farming, are very nutrient-rich and have smoothing fatty acids and protective antioxidants, vitamins and minerals. The application of the serum regulates sebum production and strengthens the skin's protective barrier.
APPLICATION
STEP 1 - CLEANSING BALM
Application: Take a small amount of cleansing balm (pea size to hazelnut size) and mix in the palms of your hands with a few drops of water to form a cleansing milk.
Then gently massage the skin and wash off the milk with lukewarm water. Gently dry with a clean towel and do not rub.
After the balm has been mixed in the hands with a little water, a mild shaving cream results. This is applied to the beard and it can be performed without pressure as usual wet shave. Then rinse thoroughly and pat dry.
STEP 2 - HYDRATING SERUM
Application: The serum is placed in the palm of the hand and should not be sprayed directly onto the face. The gel-like texture is applied with the hands to the face, neck, décolleté and gently massaged in.
The serum can be mixed with a few drops of the Face Oil to form an emulsion. Thus, the individual amount of moisture and care can be adjusted according to one's own needs.
STEP 3 - FACE OIL
Application: Apply to slightly damp skin in the morning and evening after cleansing. It is recommended to use the Hydrating Serum before applying the oil, as it is absorbed more quickly on damp skin.
You can mix a few drops of the oil with the moisturizing serum in the palm of your hand to form a light fluid. This mixture is absorbed even faster and you can individually determine the ratio of moisture and oil.
CONTENTS
CLEANSING BALM - Ingredients
Ingredients: Cocos Nucifera Oil*, Carthamus Tinctorius (Safflower) Seed Oil*, Kaolin, Cetylalkohol, Glyceryl Stearate, Decyl Glucosid, Glycerin, Glyceryl Caprylate, Tocopherol, Citric Acid.
*from controlled organic cultivation.
Ingredients Translation: Coconut Oil (organic)*, Safflower Oil* (organic), White Clay, Cetyl Alcohol (emulsifier), Glyceryl Stearate (emulsifier), Decyl Glucoside (collagen surfactant), Glycerin (moisturizer), Glyceryl Caprylate (moisturizer; preservative), Vitamin E Oil, Citric Acid (pH regulator).
*from controlled organic cultivation.
HYDRATING SERUM - Ingredients
Ingredients: Aqua, Glycerin*, Pentylene Glycol**, Glyceryl Caprylate***, Sodium Hyaluronate****, Potassium Sorbate.
*vegan & GMO-free, **Ecocert & Cosmos, ***Ecocert & vegan, ****Ecocert (high and low molecular hyaluronic acid)
FACE OIL - Ingredients
Ingredients: Simmondsia Chinensis Seed Oil*, Prunus Amygdalus Dulcis Oil*, Argania Spinosa Kernel Oil*, Macadamia Ternifolia Seed Oil*, Prunus Armeniaca Kernel Oil*, Tocopherol.
*From controlled organic cultivation.
Translation of ingredients: jojoba oil*, organic almond oil, organic argan oil, organic macadamia oil, organic apricot kernel oil, vitamin E oil.
*from controlled organic cultivation (EG 834/2007)
If you have any questions about our hautsache care set, we look forward to hearing from you. Write us an email or use our contact form.
We wish you much joy with the care, relaxing feel-good moments and patience and gratitude with your skin.